Hi there!
I am Jen, a sewing addict and expert, from Phoenix, USA!

I live in a world filled with crafty adventures!  What else do  you want to know about Jen?

Whilst I do enjoy a wide variety of crafts, my passion and pride lies in sewing!
My Story – More About Jen:
You know, I still remember the first time that my parents gave me my very first sewing machine.  It was my birthday present for my 8th birthday!  I was so excited when I realized what it was.
Yes, the sewing machine was one of those toys you can buy for kids, it was pink and plastic and you had to twist the knob to make the machine sew!
But regardless, a fire to make things started burning in my soul from that day and over the years I practiced and learned as much as I could about the world of sewing!
In high school, I thoroughly enjoyed Home Economics where I could create skirts or pillows or other super random things!  I was super proud when I made a large backpack out of denim, and then a slim denim skirt to match.
I attended workshops and courses when I left school, to learn more and more!  I'm so grateful to all the sewing teachers who encouraged me to learn more techniques that I can now share with you.
Before long I found my perfect job, running workshops to teach people who wanted to learn how to sew themselves! It doesn't feel like work when you enjoy something so much!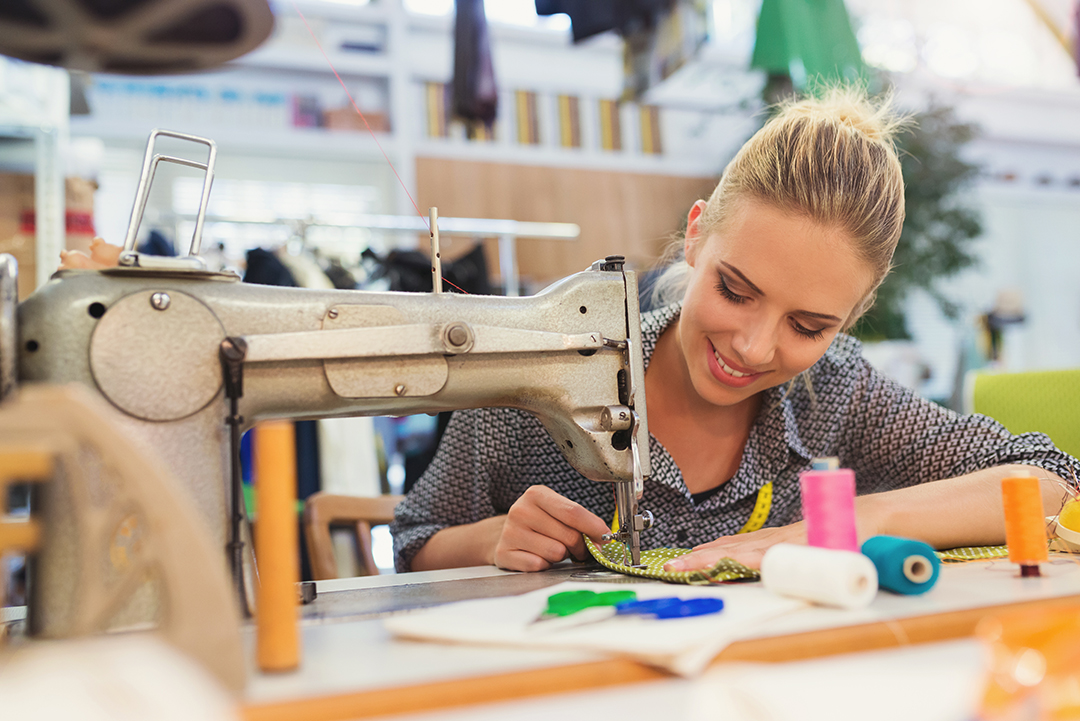 Working in a sewing workshop environment taught me so much about so many different types of sewing machines, from embroidery machines to sewing machines for quilting. 
I've also worked on everyday sewing machines for those who enjoy it as a hobby … to heavy-duty machines for those who are working on larger projects.
Together with my students, I have completed more sewing projects than I can count and my house is filled with the most delightful unique splashes of colorful items that were created through my sewing adventures!
For now, I have chosen to step away from my role of teaching sewing workshops, so that I can dedicate more time to helping those who are online.
And so I have created this blog, where I hope to answer any questions you might have in your search for the best sewing machine!  That is where ASK JEN comes in!
Why Did I Create This Blog?
This blog has been created to help people, who are passionate about sewing, find the best sewing machine!
Let's face it, sewing machines aren't cheap!  I bet most of you have already done some research about a machine before you even got to my site!  You want to make sure that you find the best sewing machine for the right amount of money!
That is where I come in.  I have been fortunate to have hands-on experience in many many different types of sewing machines.  I know the positives and the negatives of all of the machines (and honestly each machine has both positives and negatives).
So my purpose is to get some clarity and to the point information about various sewing machines across to you, to help you achieve your goal of finding your perfect sewing machine soul mate!
Let me help you find your perfect sewing machine
My Favorite Reviews
I've had such a great time putting these reviews and articles together, and after all this time I definitely have some favorites.  This first one expands every year as I discover more sewing candy on sale – it's the Black Friday sale. 
It's not just sewing machines (of every kind), but it also includes our must-have sewing accessories as well.  Here's one of my all-time favorite sewing machines.
Also high on my list of favorites is my favorite sewing machine review, which is still the review of the best overall sewing machine.
Knowing how much this article has helped so many of you, and some of my old students, the post which helps so many sewers get started is the about choosing your first sewing machine as a beginner. 
If you have any questions, suggestions, or concerns, please feel free to shoot me a message! And, please, help other parents by posting your own reviews and sharing your own hands-on experience.
I hope you enjoy your stay!
Thank you!  
xx  Jen