The Bernina sewing machine is one of the many credible, reliable sewing machine brands in the market. And even though this brand costs slightly more than other brands, it is worth the price.
Today, we have a lot of sewing machines from different brands available in the market. Hence, it can be difficult to choose a brand when we want to buy a sewing machine. However, if what you need is a brand known to manufacture top quality machines, Bernina is the brand. 
In terms of the largest producing brands of home sewing machines, the Bernina brand comes first.  If you are looking to learn embroidery, check out these embroidery books.
Bernina is not just focused on sewing machines and embroidery but has a broad category of devices such as quilting, manufacturing, and home textiles.
Bernina manufactures roughly 23 types of machines that can be used for sewing, embroidery, and quilting. The brand has everybody covered, be it amateurs or professionals. 
We are reviewing the top 8 products of Bernina sewing machines so you can be equipped with everything you need to know before getting yourself a sewing machine.
8 Best Bernina Sewing Machines Of 2021
This Bernina sewing machine is best for amateurs and beginners in need of a serger model. It provides very decent basics such as a retractable, sharp cutting knife, 15 in-built stitch options, steady operation with slight misshaping, and precise, stable sewing, even at high speed. It also has a remarkable array of extra accessories specially constructed for this unit.
The Bernette Funlock 44 Serger is relatively cheap, adequate for all kinds of tailors, especially beginners. The machine coming with already programmed stitches allows it to provide multiple practical and useful functions. 
Features 
A speed of 1,300 stitches per minute

Thread size of 2-3-4

LED lights. 

Weight of 16 pounds 

Measurements of 16.3 by 13.4 by 14.2 inches.
The Bernette B79 is one of the best Bernina sewing machines out there. It is unique as it is a combination of both an embroidery and sewing machine. It provides all the advantages of the earlier series, such as the B70 DECO, and the embroidery is also decent, offering the benefits of the B77. 
This Bernina sewing machine is best for professional users looking for enough space and requires embroidery fields of at least 6″x10″. The device is also ideal for adding embellishments to designs.  Bernette 79 is of high-quality, providing more features and various stitches. This machine's most apparent feature is the knee lift, built-in walking foot, and the programmable foot pedal. 
Features
The 5-inch LCD touchscreen

500 built-in sewing stitches

17 buttonhole stitches, 

35 quilting stitches, 

7 alphabet fonts

208 in-built embroidery patterns

10 years warranty
The B77 sewing machine is made especially for professional users. It is user-friendly and has a sequel of presser feet that gives designs professional finishing making available more product options. 
The sewing machine focuses primarily on quilting and weaving. With its very simple computerization, you can be creative with your clothing designs, accessories, and quilts while learning more sewing techniques and stitches.
This Bernina is a wonder about its ability to sew so many fabrics, be it leather or cotton. The machine also comes with sheets of a quilt to help sew top quality designs. So all that's left is your imagination to create wonderful designs 
Features 
5-inch color touch screen

4 bright LEDs

17 buttonholes.

133 decorative

35 quilting stitches.

8 presser foot soles
Thinking of getting a cover stitch machine that is adequate to meet all the jobs you need to get done, then the Bernette B42 Funlock is the ideal option for you. This Bernina sewing machine is equipped with 3 various kinds of cover stitches, including a chain stitch. These enable you to create cuffs, hems, and edges correctly.
The Bernette B42 Funlock having a different needle thread and a looper threading component makes it easier for users to thread the cover stitch. Furthermore, it is equipped with a sufficient working area and an LED light to make working easy in the dark. 
The Bernette B42 Funlock is also well able to make delicate stitches in light knits and stretchy materials. The machine also has a color-coded thread path.
Features 
Measurements of 13.2 by 10.4 by 11.5 inches.

Weight of 15lbs

Speed of 1,300 stitches per minute

Sharp and bright LED lights 

Color-coded thread path
The Bernette 70 is also a decent Bernina sewing machine. It is very efficient and capable of creating beautiful designs.  The Bernette 70 is an embroidery machine capable of providing a broad range of embroidery. It is equipped with a heavy, large box consisting of all fixtures and additional fixtures required for embroidery. 
The Bernette 70 embroidery machine is more significant than a regular sewing machine because of the embroidery table. Nonetheless, it is still decent in measurement as the machine sizes adequately on a standard table. The Bernette 70, when compared to a traditional embroidery machine, is a portable model. 
The Bernette 70 sewing machine is straightforward to use and does not need any complicated installation. It is fast, yielding, and offers a good user experience in trying out lots of designs.  
Features
Measurements of 27.4 x 24.3 x 20 inches

Weight of 42.4 pounds

Peak embroidery space of 260 x 160 mm 

208 already installed embroidery motifs
The Bernina 880 plus is an incredible Bernina sewing machine, arguably the most adaptable sewing machine ever manufactured by Bernina. It is equipped with more than 1700 already programmed stitches, giving you the chance to save and formulate your stitches. Also equipped with a powerful computer, you can stitch anything you want to design using this Bernina 880 Plus. 
However, with this sewing machine, the needle then moves to 11 various positions, but this is easily corrected using the seven-inch touch screen display to bring out your stitches so you can then fix the machine to the original pattern.
The Bernina 880 offers you the needed features to create unique designs, heavy-duty projects, and professional and beginner projects. The Bernina 880 is quite expensive, but it is definitely a worthy investment.
Features 
Measurements of  22.7 by 8.9 by 14.2 inches 

Weight of 35.3 lbs.

Speed of 1200 stitches per minute

30 LED lights 

7 inches touchscreen size 

Maximum stitch width of 9mm
Are you looking for a decent sewing machine that offers great simplicity? If yes, then the Bernina 330 sewing machine is your best bet.  However, you should know that a simple Bernina sewing machine is more advanced than a regular sewing machine. 
The sewing machine features a small, black, and white LCD screen and numerous labeled buttons that you can quickly press when you want that particular feature to function. It is also equipped with an extension table (free-arm), 115 already programmed stitches, and an automatic buttonhole. 
The Bernina 330 sewing machine is best for amateurs, beginner, and intermediate tailors who are not looking to bargain with numerous options.
Features
Measurements of 19.4  by 14.8 by 16.9 inches

Weight of 17.6 lbs.

Speed of 900 stitches per minute

Maximum stitch width of 5.5mme

1 LED Light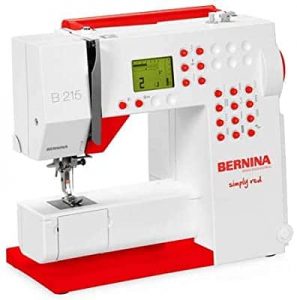 The Bernina 215 simply red is a unique sewing machine Bernina decided to manufacture. It's very cheap and simple (by standards of Bernina). The custom skin that comes with this machine makes it unique, as you can get one in any design or color you desire.
Bernie's 215 simply red is a non-computerized, simple, and average sewing machine. It is relatively cheap for a Bernina, offering the best quality a simple sewing machine can afford. 
Features
Measurements of 19.4 by 14.8 by 17.1 inches 

Weight of 17.6 lbs.

Speed of 900 stitches per minute

Maximum stitch width of 5.5 mm

1 LED Light
Conclusion 
If what you're looking for is a Bernina sewing machine, I'm sure you already have an insight into their various features and advantages. Bernina offers one of the best chains of sewing machines for all kinds of needs. 
If you're still unsure of the best Bernina sewing machine to go for, we'll love to recommend the Bernina 880E Plus because of its huge versatility as it can be adequately leftmost of your stitching needs.