Are you shopping for the best sewing machine under 100 dollars? We have got you covered!
The best sewing machine under 100 dollars is, of course, Brother XM2701. This is my pick of the top machine in its class, and my No.1 pick for the price range!
If you know me well by now, then you know that I love all types of sewing machines, and I don't shy away from other brands as well.
I love Singer machines just as much as the Brother or Janome. However, when it comes to choosing the greatest machine under $100, then there is only one option in my eyes. And that is the Brother XM2701! 
Tip: If you are interested in other sewing machines, check out my guide to the best sewing machine here!
Best Sewing Machine Under 100
I have worked personally on this machine, and I can't fault it! XM2701 comes from one of the best brands of sewing machines on the market today, Brother! This machine is the most sought after and very versatile small sewing machine in the price range.  
Brother XM2701 lightweight, full-featured sewing machine with 27 Stitches and the best of sewing machines under $100! 
If you would like to know more about what other people are saying about this machine, then click through this link to read more XM2701 Brother sewing machine reviews here.
Brother XM2701 Review
Specs of the Brother XM2701 Sewing Machine
I love this Brother machine for many reasons. It is a very easy sewing machine to use and move around. With its' 63 stitch functions and 27 inbuilt stitches, this machine is great for decorative stitching, stretch stitching, blind hem, and of course, the traditional zigzag!
The best Brother sewing machine for under $100.
Additional very cool functions include the six quick-change sewing feet, including a buttonhole, narrow hemmer, button sewing, blind stitching, as well as the zigzag and the zipper one!
The best sewing machine for beginners under $100.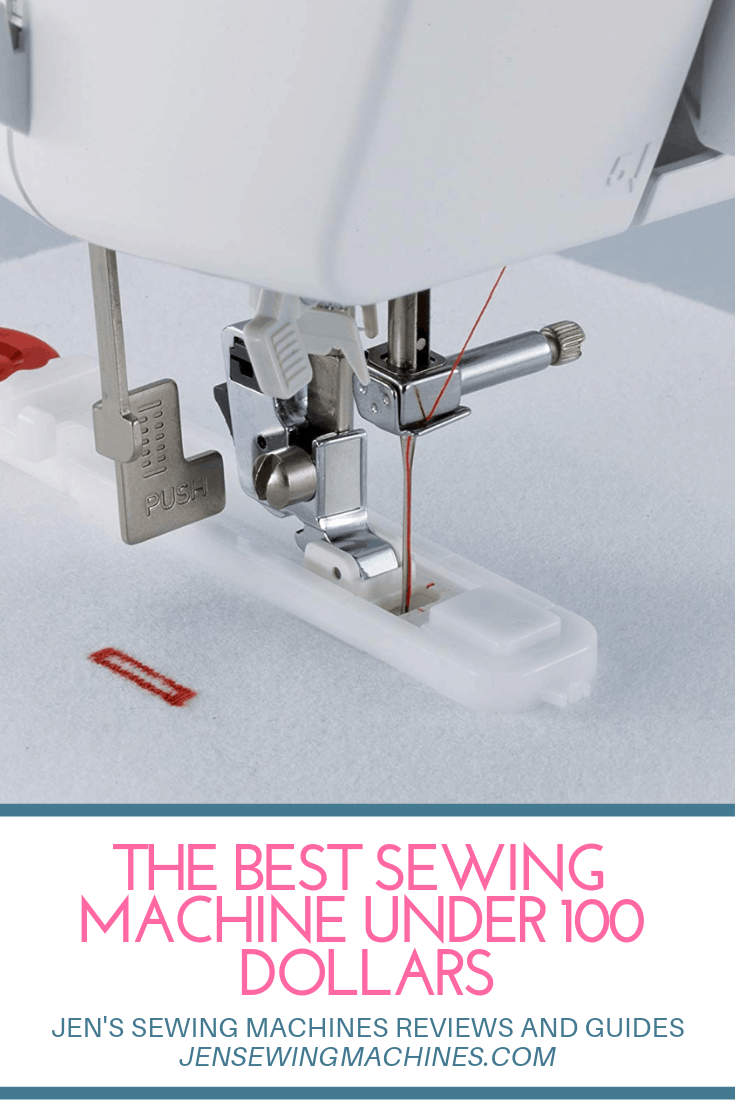 Pros:
Super Easy to use

Brother XM2701 lightweight, full-featured sewing machine

Very versatile sewing machine

27 in-built stitches and 63 stitch functions

Six quick-change sewing feet

1-Step auto-size buttonholes

In-built needle threader and top-loading

Jam resistant, LED illuminated LED work area

Comes with an easy to follow instructional DVD and the Brother XM2701 manual

Free technical support

25 years of the limited manufacturer's warranty
Cons:
It is a cheap machine, and it requires a gentle touch

The foot pedal is the first thing that can go, so just in case, here is a link to one.
My final verdict
I love the XM2701 Brother sewing machine for its versatility in stitching, super easy use, and lightweight design. It is the machine that I go for when I'm visiting both my mature and the young students alike.
I've taught a lot of students how to sew over the years on this machine and continue to be impressed with how it performs. Sure, while there are better machines out there, you won't find a better one for under $100 dollars.
I definitely recommend this machine as the best one for the specified budget and the best inexpensive machine for beginners. This is the best sewing machine under $100 for you and for me!