Jeans are one of the most popular pieces of clothing for many people across all age brackets, and you may have been wondering about how to lay your hands on one of the best sewing machines for denim.
Whether you want to create new denim designs or patch your jacket and jeans, picking a good sewing machine out of the several out there shouldn't be complicated.
In this guide, I'd be reviewing 8 different sewing machines for denim, and what makes a sewing machine suitable for jeans in general.
What To Look For In The Best Sewing Machines For Denim
A lot of conventional sewing machines are not cut out for denim and other heavy fabrics, because of their relatively weak motors and fancy plastic gears.
If you want to get a sewing machine adequately to take care of your denim and jeans, the following factors are the things you should look out for.
Powerful Motor
What you need is a powerful motor that'll make the needle whiz through the fabric without hassle. A weak motor will always struggle with heavy fabrics like denim. Avoid them at all costs if you're serious about sewing machines for denim.
Presser Foot Lift
An extra-high presser foot lift will give you enough room for the presser foot to fit in a multilayer or heavy fabric under with relief.
Leveling button
The tiny button on the presser foot is the leveling button. You can find it on the general-purpose foot. The front of the presser foot is lifted when pressed, quickly climbing over a change in fabric thickness.
The leveling button helps to sew through the multilayered bottom and side seam in denim.
Also Read: The Best Free Embroidery Software.
Top Best 8 Sewing Machines For Denim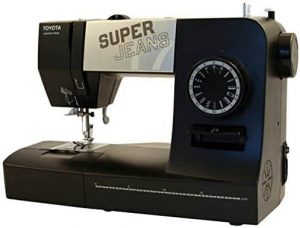 The Toyota J17XL is my favorite sewing machine for denim. With 17 built-in stitches, makes stitch selection is very easy with this machine.
When you turn on the stitch selection dial, the stitch numbers are already indicated there All you need to do is to select the stitch group. It also has a very smooth gliding foot that you can use to glide over multiple layers of denim without missing a stitch.
Features:
⦁ 17 built-in stitches
⦁ Easy stitch selection dial
⦁ Free arm convertible machine
⦁ Retractable spool pin
⦁ Top drop-in bobbin system
⦁ Automatic needle threader
⦁ Built-in bobbin winder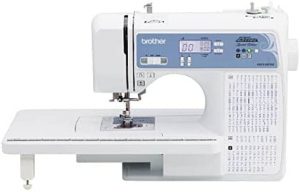 The Brother XR9500PRW is one of the best affordable sewing machines for Denim. It has a lot of stitch functions for its price range, and it is computerized.
This Brother brand has many features that make it unique—the wide LCD screen with a backlight that provides a distinctive flip stitch directory during stitch selections. Alphanumeric stitches are totaling up to 55 for basic monogramming, and lettering.  There is also a wide extension table to put up with bigger sewing operations.
Features:
⦁ Remarkable built-in stitches totaling up to 110
⦁ One-Step buttonholes
⦁ 140 Super easy bobbin winding system stitch functions
⦁ Free arm
⦁ LED screen with a backlight
⦁ Straightforward automatic needle threader
⦁ Drop-in top bobbin that's jam-resistant

The SINGER 4411 is a sewing machine that is very easy to handle. Due to its heavy-duty and extra fast capabilities, you'd be able to complete your project faster with this machine because of its good stitching speed. It can handle many layers of denim and jeans with no complications.
This SINGER brand contains 4 presser feet;
The general-purpose foot: This is needed for majorly heavy fabric sewing
Buttonhole foot: To make ribbon slots, buttonholes, and likes.
Sewing Foot For Buttons: This is used when you need buttons to be sewn.
Zipper foot: coding, piping, zipper's added with the zipper foot.
Features:
⦁ 1110 SPM
⦁ 11 built-in stitches
⦁ A drop-in bobbin system with a clear view cover
⦁ Powerful motor
⦁ An automated 4-step buttonhole
⦁ An adjustable presser foot pressure control
⦁ Heavy-duty metal frame
⦁ The stainless steel bedplate

The Janome Magnolia 7318 has a helpful stitch panel where you see all the available stitch options. This machine's presser foot can withstand bulky and heavy fabrics with no difficulty.
The stitch selection dial provides options for stitches to be selected from. It also has a reverse lever that you use to see locking stitches easily.
This Janome brand is good for jeans and has a lot of features to look out for.
Features:
⦁ 18 built-in stitches
⦁ one 4 step buttonhole
⦁ Extra high presser foot lift
⦁ Top loading full rotary hook bobbin
⦁ Manual Thread Tension Dial
⦁ Stitch Selection Dial
⦁ Stitch Length Dial
⦁ Reverse Lever
⦁ Stitch Chart

This Quantum stylist computerized machine on the list is an advanced Singer sewing machine. I know this particular SINGER brand for its style and elegance. It is a sewing machine that has everything you want.
It is affordable and offers many features, which makes it a good option for stitching denim and leather effectively. The SINGER 9960 will always come through for you.
Features:
⦁ Built-in stitches totaling up to 600
⦁ 13 built-in automated buttonhole
⦁ You can carry out embroidery operations with 5 distinct fonts
⦁ Stitch ending abilities that allow you to take charge where exactly you want your stitch pattern located
⦁ Needle threader
⦁ Drop-in bobbin system
⦁ Thread cutter

As the name implies, strong and tough. If what you want is a versatile, reliable, and durable sewing machine for denim, This Brother is up for grabs.
This machine has been designed to handle a large span of fabrics with different thickness and size with no difficulty.
This Brother ST371HD is a great option to have your denim sewn easily.
Its 37 built-in stitches contain stretch and reinforcement stitches, a one-step automatically sized buttonholer, a blind hem stitch, decorative and utility stitches.
Features:
⦁ 37 built-in stitches
⦁ Metal needle plate
⦁ Heavyweight needles for fabrics like denim and other heavyweight fabrics
⦁ Easy stitch selector option
⦁ Easy threading system with the automatic needle threader
⦁ Jam resistant quickly set up the drop-in bobbin.

The Singer 4432 Heavy Duty Sewing Machine has a powerful motor, which Singer claims is 60% heavier than their competitors. It sews through heavy fabrics like a knife through butter. Due to its heavy nature, it is a great sewing machine for denim.
It has a metal frame, and beginners can go with it easily. The amazing part of this Singer brand is it can run stitches over 8 layers of denim easily.
Fabric feeding is easy with its stainless steel bedplate, and its steel length can be adjusted with a separate dial.
Features:
⦁ 32 built-in stitches
⦁ Built-in One-step buttonhole
⦁ Needle threader.
⦁ 1100 stitches per minute
⦁ Top drop-in bobbin system
⦁ Heavy-duty metal frame
⦁ Reverse sewing capability

Toyota is renowned for the ever-reliable cars they put out into the market. Notwithstanding, they also seem to produce superb sewing machines that can stand the test of time.
One of their reliable sewing machines is the TOYOTA Super Jeans J34, which makes sewing jeans easy and fun.
This machine can handle all types of fabrics from light to multilayered ones. Its built-in stitches have great options, it has an automatic needle thread, and basically, everything needed to get your denim sewn.
It can sew leather, and also 12 layers of denim easily.
Features:
⦁ 34 Built-In Stitches
⦁ 4-Step Buttonhole
⦁ free arm sewing machine
⦁ automatic needle threader
Conclusion
Now that you've been presented with these choices, I know you still have a lot of questions in mind. The thing is, once you can figure out what you want and on what budget you want it, you've gotten yourself a sewing machine already.
Sewing heavy fabric needs the right equipment, and I think the Toyota super jeans J17XL is the best on the list. It gets you what you want as fast as you want it.  If you are looking to add some embroidery to your denim, we also have this review of the best embroidery machines.
The Singer 4423 has a powerful motor that'll take some time to wear, so I think it is also worth considering. Asides from that, I think you have the best 8 sewing machines for denim on your hands, so please choose wisely.