Are you searching for some easy ideas for how to make DIY Easter decorations? You came to the right place!
I love to decorate our home for holiday celebrations and Easter is no exception. What better way to create a festive atmosphere, than by creating some DIY Easter ornaments with your kids.
Making ornaments by yourselves adds a bit more magic into the holiday and brings us closer together too, don't you think? 
DIY Easter Ornament Tutorial
Here is everything that you need to know to create your amazing Easter ornaments. I will show you what materials to use, take you through the step-by-step instructions and will share some handy tips to make your life easier.
So, let's have some fun and create some amazing and hand sewn homemade Easter ornaments.
Materials: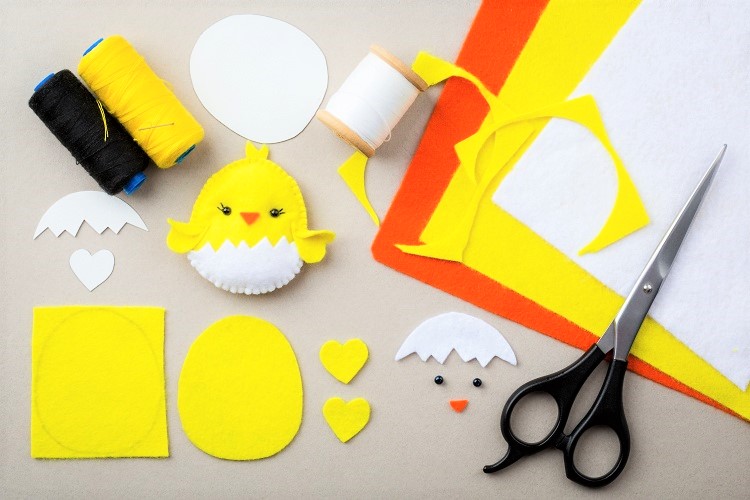 Good quality felt fabric in white, yellow and orange

A packet of small black beads

Embroidery thread in white, yellow and black

Hand-sewing needles

Medium size scissors for cutting fabric with a straight tip

Pen or pencil

A3 size sheet of thick white paper

Set of small, decorative pegs

Some white colored ribbon
Step-by-Step Instructions:
Here are easy step-by-step instructions of how to make your very own Easter ornaments:
Step 1  
When you start on a project, first draw your shapes on a thick white paper using a pen or a pencil. This way, even if you make a mistake, you can simply rub it out and correct it.
Place the paper shapes (according to the colors) on a good quality felt and trace over the shapes with a pencil. When completed, you are ready to cut them out.
Step 2 
Today we are making Easter eggs with baby chickens, so the first step is to cut out the shape of the egg and two little hearts in the yellow felt, followed by cutting out the shape of the cracked egg-shell in white felt.
In our case, the next step is to cut out a tiny heart shape from the orange felt to create a chicken beak. As for the eyes, we will use two little black beads for each baby chicken.
Step 3  
In order to create a great finish on the edges of the felt egg, use a blanket stitch choosing the complementing color embroidery thread. 
For the white shape use the white thread, for the yellow shape use the yellow thread and for the beads use the black thread. 
Step 4 
To decorate the yellow shape (the baby chicken), stitch the orange shape (the heart) to the middle of the yellow shape, thus creating a beak. Stitch the black beads with a black thread in the place of the eyes.
Repeat the same on the other baby chickens and you have finished your DIY Easter ornaments.
Step 5  
And now that all of your ornaments are all ready to go, it is time to decorate your house. Yey!
I love using ribbons to secure the ornaments around the house. I like to use a white ribbon for all of the baby chickens so that it adds a bit of contrast to the shape.
Handy Tips
I love to experiment when I create different shapes and I would suggest that you do so as well.
Did you know that you can create amazing decorations and ornaments using Easter embroidery stitches by using your own home embroidery machine. 
It is always more fun when you are not limited to simple designs, right? And, of course, you can create your own personalized designs to decorate your ornaments.
Final Thoughts
There are tonnes of Easter designs and shapes that you can create using these simple steps.
All you need is imagination, and the list of designs can be endless. As for Easter, you can make bunnies, chocolate eggs, and many more.
Alternatively, of course, you can stick to our cutest baby chickens instead.