Finding an inexpensive sewing machine is always an overwhelming mission. For whatever reason you choose, there are excellent sewing machines out there with decent price tags.
If what you need is an inexpensive sewing machine under 500 that can ace through seams, stitch seamlessly, and bind the fabric together in the blink of an eye. You're in the right place.
Even though there are tons of options out there, you do not need to worry. Considering the price, weight, speed, and other important features. We've come up with the 8 best inexpensive sewing machines.
Best 8 Inexpensive Sewing Machines
At just $180, the computerized Brother CS6000i feels like a bargain. It is reliable, affordable, and a great sewing machine for every skill level.
When you realize the chances of coming across a good computerized inexpensive sewing machine are nonexistent, you appreciate the features this Brother machine offers more.
Brother CS6000i can help you control how fast or slow you want to sew with its speed slider. There are also lots of features that make sewing cuffs, collars, and sleeves easy and straightforward.
Apart from this machine being beginner-friendly, experts will also find it really cool to work with.
Features:
⦁ 60 built-in stitches
⦁ 850 Stitch per min
⦁ LCD screen
⦁ Built-in free arms
⦁ Speed controller
⦁ Automatic needle threader
Pros
⦁ Beginner-friendly
⦁ Computerized
⦁ High speed
⦁ Wide table attachment
⦁ Easy-to-use controls
Cons
⦁ It is hard to control speed fully with the pedal.
⦁ Finds heavy fabrics hard to handle
⦁ Tricky Thread tension
The computerized Singer 7258 is another inexpensive sewing machine that'll guarantee style and elegance on any project you want to use it for.
It is a powerful, smart, technologically adept machine that has been designed to improve your sewing experience.
SINGER 7258 allows you to choose a needle position with its programmable needle. It can be used for quilting as well.
Features:
⦁ 100 built-in stitches
⦁ One-step buttonhole.
⦁ 750 stitch per minute
⦁ 10 different presser feet
⦁ LCD screen
⦁ Up / Down programmable needle
⦁ 7 Fully Automated One-Step Buttonholes
⦁ 6 point feed dog system
Pros
⦁ Computerized
⦁ Terrific stitch selection
⦁ Includes twin needles
⦁ Valuable tension system
⦁ High speed
⦁ Good customer service
⦁ Easy to use
⦁ Lots of accessories
Cons
⦁ Presser foot pressure can't be adjusted.
⦁ Limited Stitch width of 5mm
⦁ Lack of lever to lower the feed dogs.
⦁ It does not come with a carrying case
⦁ Plastic pedal
Are you looking for a simple, affordable sewing machine with incredible durability? The Janome Magnolia 7318 is a manual sewing machine that'll ensure an effective seeing operation even though you won't enjoy the factors that come with a computerized version.
If you happen to be tired of seeing automated features everywhere, you will definitely appreciate the simplicity of this inexpensive sewing machine.
This powerful machine includes key features that are easy to operate. It comes with a convenient storage area underneath the sewing workspace, plus a great selection of pattern and button options.
Features:
⦁ 18 built-in stitches
⦁ 830 stitches per minute
⦁ Four Piece Feed Dogs
⦁ 4-step buttonhole
Pros
⦁ Very durable, can endure a long time of wear and tear
⦁ Handles thick fabrics and denim comfortably
⦁ It has a thread tension adjuster that helps with precision and accuracy
⦁ Its horizontal thread delivery provides a better way of threading than the traditional vertical thread delivery
Cons
⦁ Limited stitch selections compared to other sewing machines around the same price range.
⦁ No automated features
Brother XR9500RPW's strength lies in its versatility. It is an inexpensive sewing machine that comes with many features that are vital for several sewing projects.
This machine is useful for both sewing and embroidering, with over 50 different letterings for monogramming and other convenient features to help you switch between projects with ease.
Features:
⦁ 100 built-in utility and decorative stitches
⦁ Backlit LED screen
⦁ Computerized stitch selection
⦁ 55 built-in alphanumeric stitches for lettering.
⦁ Bobbin winding system
⦁ Free arm for sewing cuffs and sleeves
Pros:
⦁ 100 built-in stitches
⦁ Super-easy bobbin winding system
⦁ Brightly lit work area
⦁ Easy to use needle threading system
⦁ Jam resistant drop-in bobbin
Cons:
⦁ It has a front-loading bobbin
⦁ The extension table consumes a lot of space.
This Singer sewing machine is as essential as it gets. Its ease of use and simple setup make up for its lack of bells and whistles.
Not only can The Singer 2277 stitch stitches, but it can also adjust their size and width. It also comes with a built-in needle threader and several other valuable accessories.
Pros
⦁ Easy to use
⦁ Great fit beginners
⦁ Suitable for small projects and simple garment repairs
⦁ It easy to thread
⦁ Can handle multiple layers of fabric to an extent
⦁ Metal bobbin casing and mechanism
⦁ Includes stretch stitches
Cons
⦁ Not really sturdy
⦁ Issues with thread tension
⦁ Bobbin system can lead to jamming or spooling
⦁ Not designed for advanced sewing
⦁ The reverse lever can sometimes get stuck
⦁ An automatic threader can be a work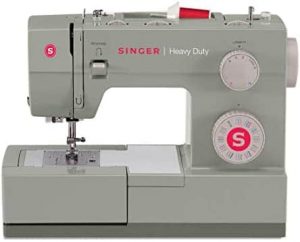 For your multilayered fabrics, denim, and leather, Singer 4452 should be your go-to sewing machine. This sewing machine is well under $500, which makes it very worth spending your cash on.
This Singer brand is heavy-duty sewing with a powerful motor that offers extra-ordinary sewing speed with an adjustable sheer foot pressure that ensures lightweight sheers.
Singer 4452 is a real workhorse. It allows effortless sewing of slippery fabrics with over 100 stitch patterns that'll help create beautiful designs on your projects and a stainless-steel bed-plate that supports the foot pedal.
There's a level of consistency this machine offers every time you press down on its pedal.
Features:
32 built-in stitches
Powerful motor
Great speed
Drop-in bobbin
Pros
1100 stitches per minute high-speed sewing machine
Powerful motor
Handles heavy fabrics with ease
Easy to use and understand its interface
Snap-on presser feet
Cons
The foot pedal is of poor quality.
Thread tension is tricky.
Issues with speed regulation
Janome HD3000 is another heavy-duty sewing machine on our list. It has a heavy-duty aluminum body and an extra-high presser foot lift. It is affordable and suitable for beginners who would like to explore their creative side.
The HD3000 comes with blind hem foot, over-edge foot, rolled hem foot, zig-zag foot, and automatic buttonhole foot. The adjustable presser foot and the free arm make this sewing machine essential for various kinds of fabric.
You also have the advantage of switching between stitches by turning a dial and a storage compartment where you can place all your accessories safely.
Features:
⦁ 18 built-in stitches
⦁ One-step buttonhole
⦁ Free arm
⦁ Needle threader
⦁ onboard thread cutter
⦁ Adjustable presser foot
⦁ Jam-proof bobbin system
Pros
⦁ Easy to use machine
⦁ Sturdy machine with a strong motor
⦁ Delivers 860 stitches per minute
⦁ Offers excellent stitch quality
Cons
⦁ Cannot handle heavy materials
⦁ Limited stitching options
Wanting an inexpensive sewing machine doesn't stop you from demanding quality. The HAITRAL Mini Sewing Machine is under $500, lightweight, and durable.
It is made of resistant plastic and has all the necessary features to keep your sewing projects going. HAITRAL Mini's good lighting, great speed, and compact size round it up to be a great option for beginners.
Newbies tend to make many mistakes, and they say this mini machine keeps them in check, and it's cool to learn on.
Here are some other sewing ideas to learn to sew like a pro.
Pros
⦁ Compact, lightweight, and easy to carry around.
⦁ Speed can be adjusted.
⦁ It has a double thread design, with a smooth and straight track.
⦁ It comes with a useful instruction manual.
Cons
⦁ For users looking to sew thick fabrics, this machine is probably not the best option.
Conclusion
People who want a machine for occasional projects and not everyday use make a lot of sense to find something inexpensive and worthy of your time and skill.
The above-listed sewing machines are the best mid-range machines that won't cost much and guarantee you an exciting sewing experience.
I'll recommend the SINGER 7258 sewing machine as the best overall on the list, for nothing other than the obvious fact that it is computerized, has great speed, and its 100 built-in stitches plus for me.
The Brother XR9500PRW computerized sewing and quilting machine also gets a notable mention for its lettering options.
I hope you make the right decision that suits your ideas and budget after going through the list of the best inexpensive sewing machines out there.