If you are looking for the best compact embroidery machine, then Brother LB6800PRW computerized embroidery machine has got you covered!
Brother is an embroidery machine expert when, and when it comes to finding one of the best home embroidery machines, there is nothing standing in the way of the LB6800 Project Runway!
Check out my detailed Brother LB6800PRW review and see for yourself why you should be investing in this little beauty as well.
Bestselling compact embroidery machine on the market today!
Price

Performance

Reliability

Ease of Use

User Experience
Pros:
Best compact embroidery machine for home use. Very affordable and great value for money.
Cons:
Not good for larger projects. Recommended for home use only.
Brother LB6800PRW Review
The Brother LB6800PRW embroidery machine is the next generation for sure. With its extensive capabilities, not to mention a lightweight design, this is a little gem, that definitely deserves a spot on the top ten lists in its class. 
Project Runway Brother LB6800PRW screams innovation and upper-class technology. 
Brother LB6800PRW Embroidery Machine Features:
The Brother LB6800PRW embroidery machine comes with a 4″x4″ embroidery area and can get up to 710 stitches per minute. Although this machine is classed as a lightweight machine, I would put this 36lbs Brother almost out of that bracket.
And that is why, I believe, that this machine comes with the rolling carrying case. Easier to move around that way, of course.
Features:
It offers 4×4' embroidery area

Has 67 sewing stitches with 98 stitch functions

70 inbuilt embroidery designs

120 Frame combinations

5 lettering fonts

7 specialty sewing feet

Inbuilt tutorials to simplify learning

Relatively lightweight (36 lbs)

Comes with a rolling carrying case

USB connectivity

LCD Touchscreen display screen
Brother LB6800PRW comes with tonnes of built-in embroidery design and much more. There are 70 designs, 120 combinations, and 5 lettering fonts. And there is more!
This machine also doubles up as a sewing machine. Brother LB6800PRW comes with 67 sewing stitches and comprehensive sewing functions as well. 
Brother Embroidery Software:
Brother LB6800PRW embroidery machine is 100% iBroidery compatible, which of course means that you have exclusive access to thousands of designs, ready to be downloaded into the machine.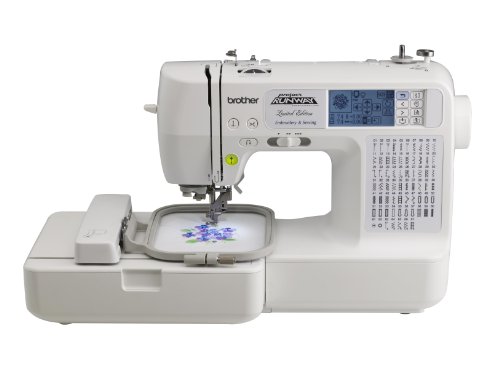 On top of that, this machine has loads of additional features as well, such as a built-in embroidery card slot. Yes! The cards are available at additional cost, however, you will be able to further your experience with tonnes of exclusive embroidery designs.
Pros

and Cons of Brother LB6800PRW:
Pros:
Lightweight: This machine weighs 36 lbs, however, it is still classified as a lighter weight machine. It does come with an additional rolling carrying case though, so in case it is a bit too heavy for your liking, this case will make it a bit easier for you to transport.
Affordable Price: The price tag is in a medium price bracket, but it is still very affordable, especially with all of the awesome features and bonus things like the case, that are on offer.
Design options: This machine comes with tonnes of designs and on top of that it is a combination sewing machine as well. 
Easy set up: This is not an advanced user machine, so it is relatively easy to set up and get you going.
Cons:
Can be confusing for beginners: Brother LB6800PRW will require a bit of getting used to, however, once you get started, you should not have any issues here.
What's in the box?
Brother LB6800PRW Accessories:
Brother LB6800PRW 

is a computerized embroidery and sewing machine

4″ x 4″ embroidery hoop

Comes with a rolling carrying case

Softcover

Comes with an embroidery arm

Accessory bag with a needle set, cleaning brush, touch pen, scissors, seam ripper, two screwdrivers, three spool caps and three bobbins

Accessory feet, including an overcasting foot, monogramming foot, zipper foot, buttonhole foot, blind stitch foot and of course the embroidery foot

English and Spanish Brother SE400 manual

25 year limited Brother sewing machine warranty
Final Verdict About Brother LB6800PRW:
Brother LB6800PRW embroidery machine is one of those little gems that you simply must-have. This one is a limited edition and comes with tonnes of great features that Brother makes available.
At the risk of sounding a little bit biased, I think that Brother makes the best machines and this Brother machine is one of those for sure!
LB6800PRW Brother Additional Products:
Here are some of the best Brother LB6800PRW accessories that will make your job that much easier! Check them out and take advantage of the cheap prices now: