Are you looking for the best embroidery machine for a small business? Check out our Singer XL 580 review and look no further!
Singer embroidery machines have been around forever, continuously upgrading, improving, and bringing out better and better machines every year.
Although the  Singer XL 580 has been around for a little while, rest assured that it is fully packed with all that you need for your home or small business. Let me show you the details!
Best embroidery machine for small businesses!
The Singer XL 580 is filled to the brim with designs and has ability to connect to the internet, so you can get thousands more if need be.
When you are looking for the Singer embroidery machine, this is the best one that you can get!
This machine is not only equipped with state of the art embroidery features, it is also a super quick and a very versatile sewing machine as well.
The bonus here for sure! When it comes to the price, it is a bit on the high end of the spectrum, however, it is worth every dollar spent.
I know, because I do have one in my workshop too, and I love it!
Price

Performance

Reliability

Ease of Use

User Experience
Pros:
Best embroidery machine for small business and the my No.1 for the Singer sewing and embroidery machine!
Cons:
High price bracket and not suitable for beginners.
Singer XL 580 Review
When it comes to reviewing the embroidery machines, I have strict categories that I follow and I have to say that Singer XL 580 has passed with flying colors. 
When it comes to the features, this newly upgraded model sits steadily on the highest chair together with the best embroidery machines in its class.
Let's check out the features of this machine a bit closer.
–
Singer Embroidery Machine XL 580 Features:
Check out the Singer XL580 embroidery machine's best features:
Large 10×6 inch embroidery field

Large color LCD touchscreen

250 built-in embroidery designs

50 endless designs

5 lettering fonts

215 built-in sewing stitches

2 fully automatic one-step buttonholes

600 stitches per minute

Fully computerized embroidery system

Able to edit the and personalize your embroidery

Automatic needle threader

Programmed thread trimmer

Design memory

Well LED light lit work area

A built-in USB port for easy downloads

Knee lifter included
–
Singer XL 580 Software & Designs
Singer XL 580 comes with exclusive access to the best Singer software that you can find and it can read all different types of files, such as FHE, XXX, JEF, CHE, HUS, PES, DST, SHV, PEC, EXP, VIP, PCS, PSW & SEW. Autopunch, Advanced Editing, and Hyperfont software are also included as a bonus!
Singer XL 580 embroidery machine comes with 250 built-in embroidery designs and 5 monogramming fonts.
Apart from the fact that this machine is also an excellent sewing machine with 215 built-in stitches, the embroidery designs include 50 endless designs as well. Another bonus here as well!
THe Singer XL580 embroidery machine has a well lit working area and comes with a large the largest 10″x 6″ embroidery field.
Having the largest space to work on, this machine proves to be great for large projects as well. If you can imagine it, you can do it on this Singer for sure!
–
Advantages of Singer XL 580 Embroidery Machine:
One of the best features of the Singer XL580 embroidery machine is definitely the fact that this machine is both an embroidery and a normal sewing machine.
Having all the options on offer with this machine creates endless possibilities for your business and is sure to bring a nice return on your investment.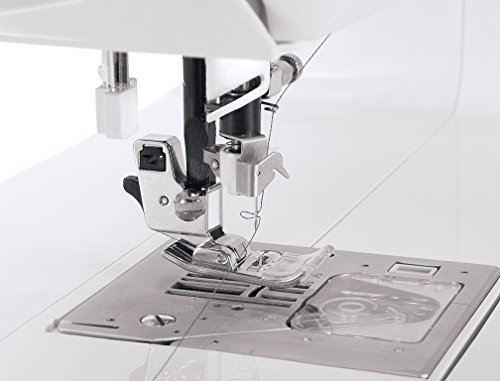 This machine is fully packed with all the goodies like the automatic needle threader and trimmer, drop-in bobbins, not to mention the tonnes of embroidery and sewing designs, both built-in and downloadable. Simply cannot fault this machine!
Please note: Singer XL 580 also comes in a slightly cheaper package with only 125 built-in embroidery designs and you can check it out here as well: Singer XL 550.–
Pros and Cons of Singer XL 580
Pros:
Large embroidery area – Having a large embroidery field is essential to being able to create for versatile and larger designs. This machine's largest working area is 10″x 6″.
Design editing – There are not many machines on the market that allow you to edit and combine the built-in designs, which is a great feature.
User-friendly and efficient – To me, Singer XL 580 is the best in its class and definitely the best for a small business. This is not a beginner's machine at all!
–
Cons:
Intermediate and advance user only – This is not a toy, so make sure to get this machine only if you are interested in high-quality embroidery.
Final Verdict about the Singer XL 580 Embroidery Machine:
This is my No.1 Singer embroidery machine for this year! I know that the price is a little high and you can definitely get a cheaper option somewhere else, but you have to ask yourself, why would you jeopardize the quality. 
With Singer XL580 you get the best of both worlds, exceptional and a high-performance embroidery machine, as well as a super fast-stitching sewing machine. All-in-one package! 
Personally, I am very happy with my purchase of this machine and that is why I stand behind this one so strongly. I love it and I know that you will love it too!
–
Singer XL 580 Accessories:
Singer XL 580 Multi-Hoop Designs:
Singer XL580 has plenty of additional accessories available on the market, such as the multi-hoop embroidery designs CD:
Singer XL 580 Thread:
Singer XL580 best thread option and the value for money pack:
43 Presser Feet Set with a Manual and Adapter SIMPZIA Sewing Foot Kit:
Singer XL580 sewing feet kit. This is the largest sewing feet kit that you can buy and a one-stop-shop for all your needs:
Singer XL 580 Carry Case:
Singer XL580 carry case. This is a universal hard case that is sure to protect your machine whilst not in use or during transport: